Assalamu 'alaykum (peace be upon you)
If you're interested about learning more about Islam, please get in touch. This group can offer support if:
you've heard about Islam and just want to know more
you're thinking of becoming a Muslim
you've recently said your Shahadah (Testimony of Faith) to become Muslim
you're new to Sheffield and would like to meet a great group of English speaking Muslim sisters
Sheffield New Muslims sisters' activities
COFFEE MORNING
Weekly coffee morning 9-10:30am at Masjid Quba on Tuesday mornings is back!
Women and children of all faiths and none are welcome to join us at this community coffee morning. Come and meet some new people and find out about other activities in Sheffield. Refreshments provided.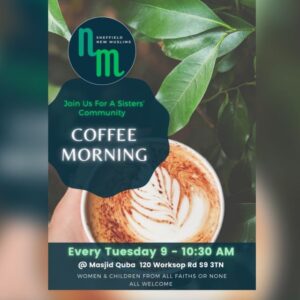 Social events
Examples of past activities – contact us to join our Whatsapp or Facebook group to keep up to date
Ramadan 2020 + 2021
Virtual iftars
Activities
Eid coach trip to Whitby for families
Social at Medieval Mayhem – Sisters and children
Coffee and Dhuhr prayer at Sheffield Hallam University
Bring a dish social
Sisters' meal at Unit restaurant
Sisters and kids social walk and coffee at Endcliffe Park
Sheffield Circles for Sisters
You may like to check out these local circles in English for women that are welcoming to new Muslims and those interested in learning about Islam.